Embark on an Unforgettable Journey
Charter Bus Rental Unveils Toronto's Majestic Attractions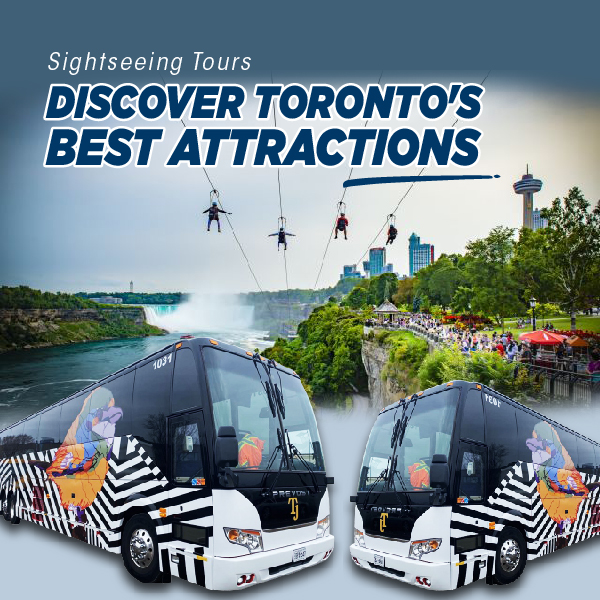 Attention all adventure seekers and culture enthusiasts! Prepare yourself for an immersive experience as you explore the captivating attractions that Toronto has to offer. Toronto offers a range of remarkable attractions, including the CN Tower, the Royal Ontario Museum (ROM), and the Art Gallery of Ontario (AGO). These attractions boast stunning heights, captivating displays, and awe-inspiring artistry. Exploring these sites promises an abundance of unforgettable moments just waiting to be experienced. And with TJ Bus Rental as your trusted companion, your summer vacation just became a whole lot more exciting.
The CN Tower is a must-visit attraction in Toronto. It represents the city's grandeur and stands tall above everything else. When you enter the tower, you'll feel a rush of excitement because you know you're about to see incredible views that stretch as far as you can see. Take the elevator to the top, and there, you'll witness an amazing sight. From that high point, you can see the beautiful city below and the sparkling Lake Ontario, which will fill you with wonder and amazement. The CN Tower isn't just an observation deck; it offers a unique and extraordinary perspective on Toronto's summer scene.

Highly experienced
driving crew.

Wi-Fi
Connection

Big Luggage
Compartments

Reclining
Seats

Restroom

Outlets

Reliable &
Affordable

Punctual & on time
transportation service.
Prepare to be captivated by the wonders that await at the Royal Ontario Museum (ROM). This colossal institution stands as one of Canada's largest museums, showcasing a diverse range of exhibits that encompass natural history, art, and culture. Delve into the mysteries of ancient civilizations, encounter majestic creatures from the past, and marvel at the intricate beauty of artistic masterpieces. From the moment you step foot inside the ROM, you're transported to a world where knowledge and fascination intertwine, making your summer vacation an enriching and unforgettable experience.
If you love art, you simply can't miss the Art Gallery of Ontario (AGO). It's a place you must visit. This renowned institution boasts an extensive collection of works by Canadian and international artists, inviting you to explore the vast spectrum of creative expression. Lose yourself in the vibrant strokes of Canadian landscapes, be mesmerized by captivating contemporary installations, and allow the brushstrokes of renowned masters to ignite your imagination. The AGO is a haven for art enthusiasts, where each gallery holds a new discovery and every corner reveals a masterpiece.
While Toronto's attractions beckon with their allure, navigating the city's bustling streets and finding parking can be a daunting task. This is where TJ Bus Rental steps in, providing you with a hassle-free and comfortable charter bus rental experience. Sit back, relax, and let our skilled drivers whisk you away from one remarkable attraction to another, while you revel in the excitement of your summer adventure.
So, as you plan your Toronto summer scene exploration, make TJ Bus Rental your trusted companion. Discover the city's best attractions, embrace the thrill of adventure, and create memories that will last a lifetime. Book your charter bus rental today and embark on a journey that blends convenience, comfort, and the wonders of Toronto's summer scene. Let the magic unfold as you uncover the treasures that make this city truly extraordinary.