Unveiling Toronto's Serene Summer Escapes
TJ Charter Bus Rental Makes It a Breeze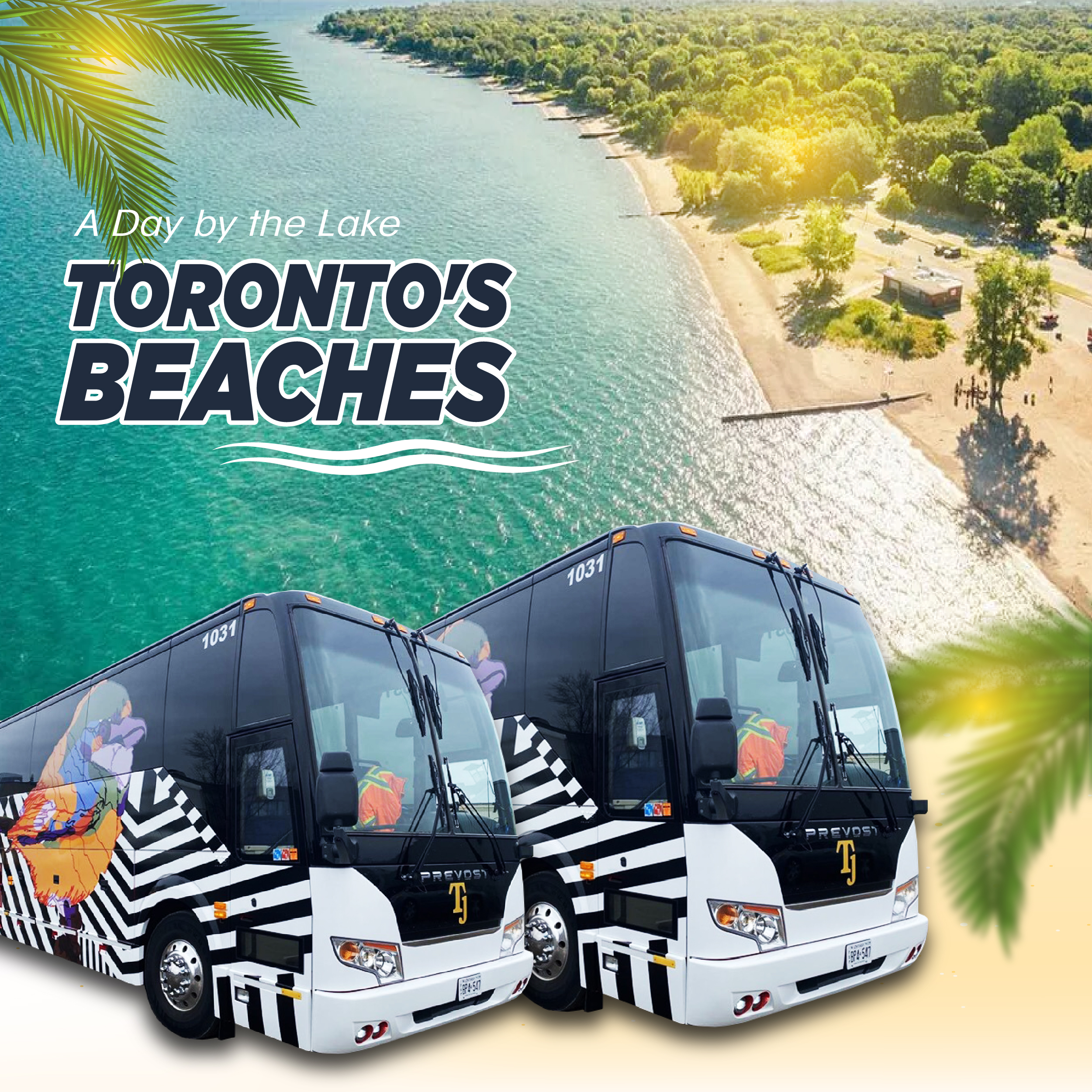 Get ready for a summer adventure that will leave you absolutely breathless. Are you prepared for the excitement and thrills that await you? Look no further than Toronto's exquisite beaches, where sun-kissed sands and shimmering waters beckon. With Woodbine Beach, Cherry Beach, and Hanlan's Point Beach on the menu, your summer vacation is about to reach new heights of relaxation and adventure. And the best part? TJ Bus Rental is here to make your journey through Toronto's summer scene an absolute breeze.
Woodbine Beach, the crown jewel of Toronto's east end, stands tall as the largest and most prominent beach in the area. As you arrive, your senses are instantly captivated by the rhythmic crashing of waves and the salty scent of the sea. Dive into the refreshing waters, bask in the golden sunrays while perfecting your tan, or engage in a friendly game of beach volleyball. And when hunger strikes, fear not—delicious food vendors await, ready to satisfy your cravings for summertime treats.
But if you're seeking a more secluded paradise, Cherry Beach awaits your arrival. Tucked away in Toronto's Port Lands area, this hidden gem promises tranquility and stunning vistas of the city's iconic skyline. As you set foot on the gentle sand, a wave of tranquility envelops you, whisking you away to a realm of peace and untouched natural splendor.

Highly experienced
driving crew.

Wi-Fi
Connection

Big Luggage
Compartments

Reclining
Seats

Restroom

Outlets

Reliable &
Affordable

Punctual & on time
transportation service.
For adventurous souls seeking an experience like no other, Hanlan's Point Beach on the Toronto Islands is a must-visit. Being the sole clothing-optional beach in the city, it presents a one-of-a-kind chance to fully embrace nature's embrace without any reservations or inhibitions. Indulge in the freedom of barefoot bliss as you stroll along the smooth shoreline, gazing at the mesmerizing expanse of Lake Ontario. To reach this sun-kissed paradise, catch a boat from downtown Toronto to Toronto Island, and then enjoy a leisurely walk or bike ride to Hanlan's Point Beach.
While Toronto's summer scene holds endless delights, getting around the city can be a daunting task. That's where TJ Bus Rental comes to the rescue, ensuring your summer vacation is smooth sailing from start to finish. Our reliable and comfortable charter buses are the perfect mode of transportation to explore Toronto's beaches and the city's vibrant summer attractions. Say goodbye to the hassle of navigating unfamiliar roads and parking nightmares—simply sit back, relax, and let our experienced drivers take care of the journey while you soak up the excitement of your summer adventure.
So, as the sun casts its warm glow upon Toronto's remarkable summer scene, seize the opportunity to create lifelong memories on the city's pristine beaches. Let TJ Bus Rental be your trusted companion, making your summer vacation an absolute delight. Book your charter bus rental today and embark on a journey of sun, sand, and pure summer bliss. Toronto's summer scene awaits, and the best way to experience it all is with TJ Bus Rental by your side.