10 Reasons Why Coach Bus Rentals are the Perfect Choice for Your Toronto Sports Team Travel
Luxurious | Stylish | Exclusive
When it comes to sports team travel in Toronto, TJ coach bus rentals are the ideal choice. Offering a wide range of benefits, we provide the ultimate transportation experience for your team. Here are ten compelling reasons why TJ coach bus rentals should be your go-to option: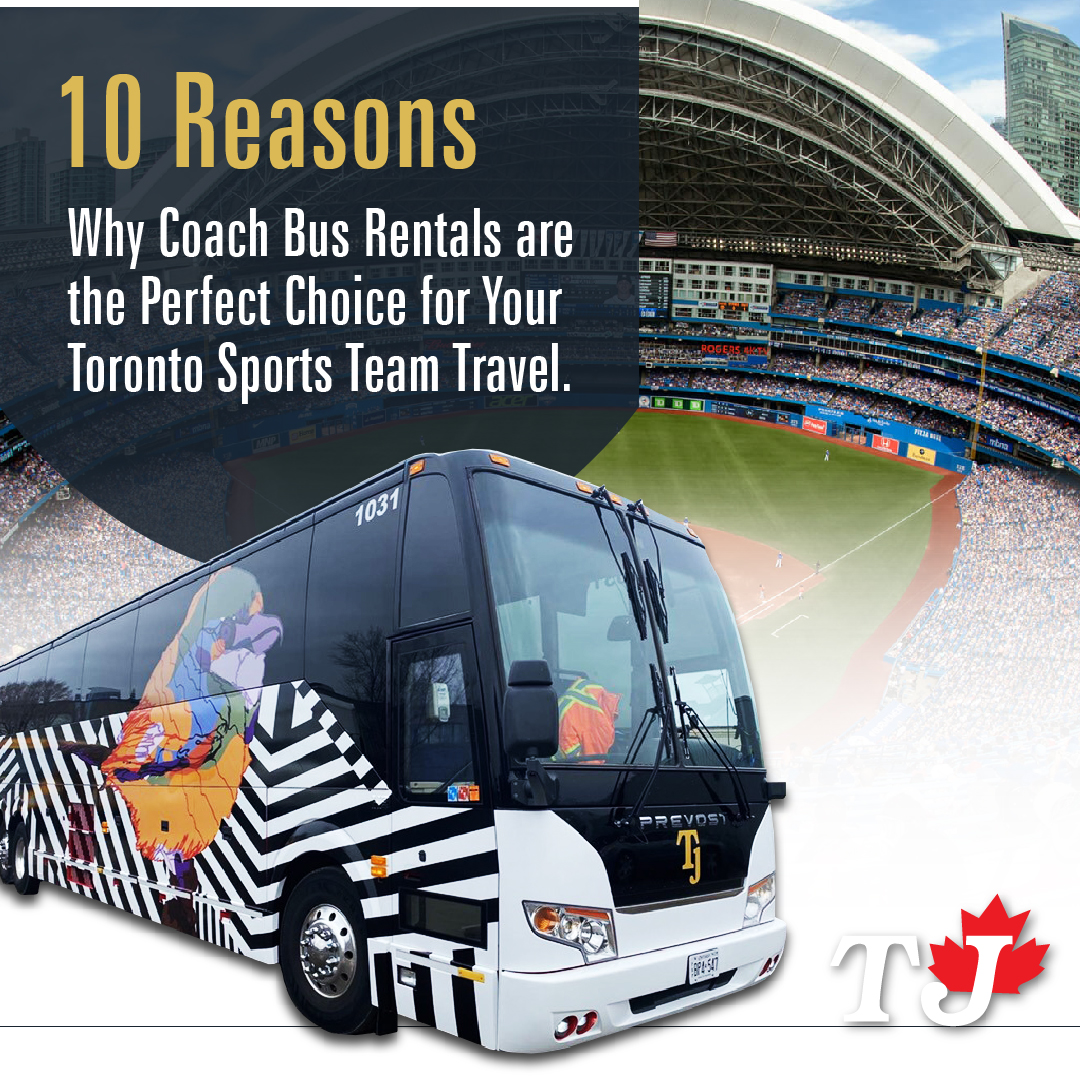 Comfortable and Spacious:Coach buses are designed to provide maximum comfort for passengers. With plush seating, ample legroom, and climate control, your team can relax and enjoy a comfortable journey to their destination.
Large Capacity: Coach Buses can accommodate a large number of passengers, making them suitable for sports teams of any size. Whether you have a small team or a large roster, coach buses can easily accommodate everyone in one vehicle.
Storage Space: Coach buses come with spacious storage compartments, allowing you to carry sports equipment, luggage, and other belongings with ease. There's no need to worry about fitting all your gear in a cramped space.
Convenience: Hiring a coach bus eliminates the need for multiple vehicles, reducing the hassle of coordinating transportation. Your entire team can travel together, ensuring everyone arrives at the destination on time and without any complications.

Highly experienced
driving crew.

Wi-Fi
Connection

Big Luggage
Compartments

Reclining
Seats

Restroom

Outlets

Reliable &
Affordable

Punctual & on time
transportation service.
Safety: Coach bus rental companies prioritize safety and adhere to strict regulations. Our drivers are experienced professionals who undergo regular training and follow all traffic rules and safety guidelines. You can have peace of mind knowing that your team is in safe hands.
Onboard Amenities: Our Coach buses come equipped with various amenities to enhance the travel experience. These can include Wi-Fi, power outlets, entertainment systems, and comfortable seating options. These amenities help keep the team entertained and connected during the journey.
Cost-Effective: Coach bus rentals are a cost-effective option, especially when compared to renting multiple vehicles or arranging flights for the entire team. By opting for a coach bus, you can save on transportation costs, allowing you to allocate more resources toward other team expenses.
Flexibility: Coach bus rentals offer flexibility in terms of scheduling and routes. You can customize your travel itinerary based on your team's specific needs and preferences. Whether you have multiple stops or require specific pick-up and drop-off locations, coach bus rentals can accommodate your requirements.
Team Bonding: Traveling together on a coach bus fosters team bonding and camaraderie. The shared space allows players and staff to interact, engage in team activities, and build stronger relationships. This can have a positive impact on team dynamics and performance.
Environmental Sustainability: Opting for a coach bus rental promotes environmental sustainability. By choosing a single vehicle to transport the entire team, you reduce carbon emissions and minimize the team's carbon footprint. It's a greener transportation option that aligns with the growing concern for the environment.
TJ coach bus rentals in Toronto offer an array of advantages for sports teams. From comfort and convenience to safety and cost-effectiveness, We provide the perfect transportation solution. By fostering team bonding and reducing environmental impact, coach bus rentals ensure a smooth and enjoyable journey for your sports team. Make your team's travel experience unforgettable by choosing a coach bus rental in Toronto.